Production-ready ZTE T98 tablet with quad-core NVIDIA Tegra 3 shown in Beijing
2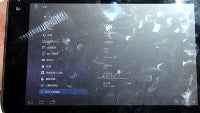 Apart from demo reference units branded with the NVIDIA logo we haven't seen devices sporting the next generation of its Tegra 2 mobile platform, the
quad-core Kal-El project
, which actually was
revealed to be penta-core
recently.
NVIDIA promised a number of bells and whistles on top of battery life improvements, and now we'll have a chance to gauge those promises with the ZTE T98, shown at a communications expo in Beijing, which might very well be
the first production tablet with the quad-core SoC
. The processor cores are clocked at 1.3GHz, instead of 1.5GHz, possibly to be gentler on the battery.
The rest of the specs are a 7" display with 1280x800 pixels of resolution, 1GB RAM and 16GB of internal memory. The ZTE T98 runs the latest version of Gingerbread, and a 5MP rear camera plus a 2MP front-facing unit round up the offering.
The slate looks a bit bulky at 11.5mm, but it's not the design we are interested in. We'd love for this unit to be put through its paces with all the benchmark apps a human can find on Android Market, with a side serving of some browser and Java tests. It shouldn't be long before other brand name tablets with Kal-El start popping up to satiate our curiosity, though.
The 4000mAh battery is not the biggest unit in the tablet universe, but hopefully it's because Tegra 3 is power-efficient on the 7" slate. And, yes, it seems that
Tegra 3 will be the retail name
of NVIDIA's quad-core project.