NVIDIA Kal-El – what will the first quad-core chipset bring
31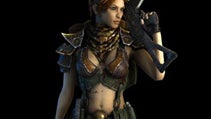 There's been a lot of talk lately about what will probably turn out to be the very first quad-core chipset for phones and tablets – the
NVIDIA Kal-El
. And while we're still waiting for those first quad-core devices to hit the market, we thought it might not be a bad idea to take a quick look at what's known about the Kal-El right now. You know, just to put all the info in one place, so we can analyze it more easily.
Cool new features
First of all, "Kal-El" is most probably a project name, which, upon its release, will change to something in the lines of "Tegra 3" (or maybe Tegra 4?). The way it'll achieve a performance boost will naturally be by distributing the workload among a total of four cores, instead of just one or two. This shouldn't be confused with the GPU part of the chipset, which alone will consist of 12 cores.
So, what else will the Kal-El bring for the user, besides the expected improvement in system performance? The increased power and enhanced technology of the SoC (System on a Chip) will actually be the key to unlocking a number of graphical and computational features, which have been previously impossible to achieve. Well, some of them could be possible, but not without a tremendous drop in the framerate, which would have rendered them useless.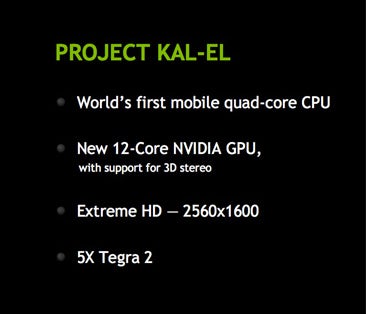 The so-called "Extreme HD" video playback of video of up to 2560x1600-pixel resolution is one of those new features. Obviously, once those "Retina Display"-grade tablets start to hit the scene, the ability to play such high-resolution video would be quite beneficial. Until we have those displays however, there won't be much use in this.
The sweeter part, as expected, will be found with games and other entertainment software, which will really take advantage of all the processing power of those four cores. For example, in addition to more detailed objects, developers will be able to implement dynamic lighting in their 3D games, making them look even better, livelier, and much more realistic. NVIDIA showed a great example of this with its tech-demo, called
Glowball
.
Games that rely heavily on physics will also take great advantage from the capabilities of Kal-El, as the chipset will be powerful enough to calculate complex collisions of 3D models. Angry Birds 3D, anyone?
Ecosystem
Of course, the inevitable question is –
will there be enough software
for users to enjoy, when Kal-El-powered phones and tablets finally arrive? How much of an ecosystem there is to accompany the advent of quad-core chipsets? Basically, we can't be certain right now, but things look to be developing pretty slowly, with only a couple of titles announced so far to be quad-core-optimized. However, we hope that when those devices start appearing on the shelves, devs will be quick to react and build a decent ecosystem.
But let's check out for a second what those next-gen titles look like! First is
ShadowGun
(demo video below), which looks like it won't excel with a very interesting and diverse gameplay, but it does promise some visuals that are clearly unseen on a mobile device so far. The other one is the very popular and addictive
Sprinkle
, available right now for iOS and Android. And while most of you would note that the game actually runs perfectly fine already, on dual- and even single-core devices, it is said that the upcoming version, which will carry support and optimizations for quad-core gadgets, will feature new goodies such as shadows, advanced lighting and reflections (probably for the water). So, it won't surprise us at all if developers manage to release new offerings that will implement significant visual refinements fairly quickly.
Okay, so it seems there is a lot to look forward to, when it comes to Kal-El, and quad-core chipsets as a whole, as they will provide developers with even more power to express their ideas. Most probably, the additional horsepower will be most useful for game development, as this is the area of software that has the highest demand for resources. We hope that phone manufacturers will also make good use of quad-core chipsets like the Kal-El, which will hopefully allow them to enhance their custom interfaces, both in terms of visuals and functionality. Finally, with all of that boost in performance, we can only expect our devices to become even faster and more productive, because this will proliferate usage of multitasking and overall heavier, presumably more capable apps.
Are we there yet?
At this point, probably everyone is wondering when will Kal-El start to make rounds. Right now, the first Kal-El-powered tablets are
expected to roll out in October
, while the first
quad-core phones
are scheduled to appear in
early 2012
; so while we aren't that far away from experiencing the quad-core goodness, we aren't quite there either, at least when it comes to phones, but we surely can't wait.
Are you looking forward to the time, when you'll finally have one of those quad-core gadgets in your hands? What do you plan to use its excessive power for? Gaming, productivity, or both? Feel free to share your thoughts below!