Price of paid IM+ apps across all platforms have been reduced dramatically
0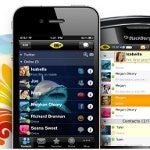 If you've been holding out from trying SHAPE Services'
IM+ Pro or IM+ Talk
apps, but choose to side with their standard free version, then you might be interested to know that they've reduced the prices on their paid apps.
Naturally, some might have been put away by the previous prices of the IM+ Pro and IM+ Talk apps, which stood at $39.99 and $29.99 respectively. However, now that the two are priced more reasonably at
$9.99
a piece, there might be some users out there who might find value with them. Even though you can always opt to use other standalone apps, IM+ is an all-in-one messaging solution that supports some of the popular services out there – like AIM, MSN, Yahoo, ICQ, Jabber, Skype, Facebook chat, Google Talk, and MySpace.
Furthermore, the $9.99 price is in effect with the two apps across all mobile platforms – so whether it's Android, iOS, or BlackBerry, you can expect to pay only $9.99 for the apps.
source: SHAPE Services