Patent reveals Apple's idea for iPhone IM
1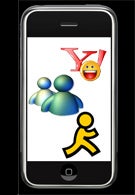 iPhone
is and how it influenced the other manufacturers with their touch-phones, it has a few things missing without a reason. Video capture, Multimedia messaging, IM, you name it. Hopefully, that may change and some or all of these will be added, if the patent that Apple has filed sees daylight.
It visualizes interface similar to the one of the current text messaging, with zig-zag oriented bubbles above the on-screen QWERTY. However, it will be for Instant Messages system and will have more advanced word suggestion. For starting a new conversation, the phone will list the contacts just as in the phonebook. The user will be able to preview the chat history and remove selected messages.
Still it is not certain if this will be a universal instant messaging application, or if it will be compatible only with some of the chat formats. The patent also mentions MMS and video messaging, but with no significant details.
If these new features are released for the current iPhone, they will come either in a firmware update or as an application through the official SDK. Made by Apple, it may be allowed to work in background mode, unlike third party apps.
source:
Apple Insider
via
IntoMobile