Palm Treo 700p to be released on 28th May?
0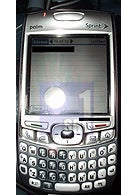 The new much-speculated smartphone from Palm – Treo 700p - is again rumored on the net. A TreoCentral forum member reveals a scanned product sheet of the device, which he claims was given to him by a rep of a Sprint's store. The scan shows that the release date is 28th May. This confirms earlier information from the beginning of this month, according to which Palm Treo 700p is scheduled to be released in May/June 2006. The 28th May, however, happens to be on a Sunday, so the scan probably just gives a general time frame regarding the launch. The scan also reveals some more details about the device itself, which confirm previous specifications, which have leaked so far. Treo 700p is said to be an upgrade to the popular Treo 650 and to feature:
Bluetooth

EV-DO high-speed data

1.3 mega pixels camera

128 MB internal memory

SD memory expansion slot

Power Vision support

Sprint TV, On Demand, Streaming music
| | |
| --- | --- |
| | Product sheet scan |
Another picture of the Palm Treo 700p from an anonymous source was also posted on 1src's site.
| | |
| --- | --- |
| | Palm Treo 700p |
Source: TreoCentral (via Slashphone)