Overhauled Google Photos is announced: managing, editing, and sharing images made easy
6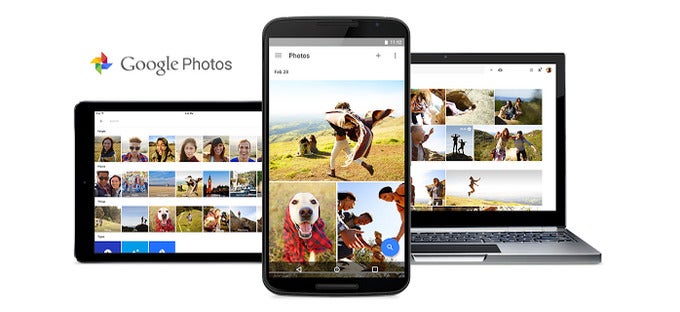 As rumored, a refreshed Google Photos was announced at the Google I/O conference, and it is shaping up as much more than just an update to the Photos app many of us have on our smartphones. Photos is a brand new Google product – a new experience, built from the ground up to bring all your images under one roof, where they're safe, easy to find, and easy to share.
At its core, the new Google Photos is meant to serve as a centralized hub for all your images. New photos that you take with your devices can be automatically synchronized with the new service, but you're also free to add existing pictures stored on your other devices. Images are uploaded in high resolution – up to 16 megapixels per image – which guarantees minimum to no perceivable loss in image quality. Uploading at this quality setting gives you unlimited space for all your images. If you choose to, you may upload photos in their original quality, but in this case, images will be saved in your personal Google Account storage space. Videos of up to 1080p resolution can be uploaded as well.
While Google Photos is good at storing photos, it also appears to be well capable of managing them. Photos can be grouped not only by time and date or by place. Google's service is clever enough to recognize faces and can group images with the same people in them. You don't need to tag or label images, you don't have to create albums. Just tap on a face, and Google Photos does the magic for you.
As a product of this kind should, Google Photos can edit images in many ways. You can apply adjustments to the colors and the lighting to make an image look as best as it can, or just let the app do it for you. With a few taps, you can also make collages, animations, movies with soundtracks, and more. Speaking of which, the new Assistant feature displays suggestions about new creations made with your photos and videos – a collage, for example, or a story based on a recent trip.
Of course, most of us would also like to share our images, not just keep them in a private vault. Well, Google Photos can do that too, and in more than one way. You may share an image via an app, as usual, or choose to generate a link to a gallery containing one or multiple images. The recipient may then view the images or even add them to their own personal Photos space. And speaking of sharing, there's a new gesture allowing you to manage multiple images at a time – just hold your finger on an image and drag down.
While Android M is coming later this year, Google Photos is launching today across multiple platforms. Google's service will be available on Android and iOS devices, as well as through your web browser.