Order postponements and processor shortage mean Surface Book, Surface Pro 4 demand shifts to Q1 2016
26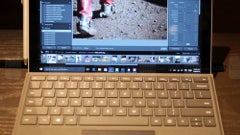 Shortages of the Intel Skylake chip, combined with orders that had to be moved to the first quarter, will result in smaller than expected Q4 shipments of the
Surface Pro 4
and the Surface Book. This is the word from sources inside the upstream supply chain. Microsoft is using Pegatron to assemble the two devices, and yields are said to be improving, which should make Microsoft hopeful about the beginning of the year.
The sources say that shipments of the hybrid tablet/notebook Surface Book should exceed 100,000 units for Q1. At the same time, 200,000 Surface Pro 4 units could be delivered by Microsoft. The order postponements will actually work in Microsoft's favor during the beginning of the new year. While competitors will see shipments decline once the holiday season abruptly comes to an end in January, Microsoft will be shipping out Surface Pro 4 and Surface Book units to cover the shift in demand.
Microsoft Taiwan says that it considers Apple's devices to be the main competition for the Surface Book and the Surface Pro 4. The latter might be considered competition for the
Apple iPad Pro
. As for the Surface Book, Apple recently said that it had no interest in producing a Mac/iPad hybrid device.
source:
Digitimes
Recommended Stories