Oppo patents new slider design that allows for a high screen-to-body ratio
1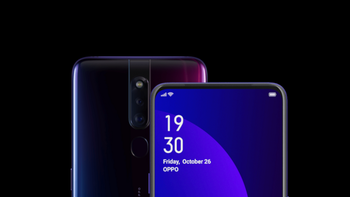 The European Union Intellectual Property Office (EUIPO) has published
(via
TigerMobiles
) a patent awarded to Chinese phone manufacturer Oppo. The company's
Oppo Find X
was the first smartphone to feature a slider design; the slider hides the front-facing camera and dual rear cameras until needed. Now, Oppo's new slider design includes dual cameras that are mounted on the back of the phone, never hidden from view. Meanwhile, the slider holds a pair of front-facing selfie cameras.
Just the other day, we showed you a case render for a phone called the Oppo Reno, which will be unveiled on April 10th. To give the phone a high screen-to-body-ratio without relying on a notch (which is really the reason for all of the sliders, punch-holes, pop-up cameras and side panels we're seeing on new handsets these days),
the Oppo Reno uses a wedge
that mechanically rises from the top of the device.
The illustrations that accompany the patent show a phone using the newly patented slider, but also don't show a fingerprint scanner. This could be related to the fact that the patent has nothing to do with that feature, or it could indicate that Oppo plans on equipping a phone using the patented new slider design, with an in-display fingerprint scanner.
The patent was initially filed in January, was registered and published today. It expires on January 30, 2024.