Opera Touch comes to iPad, Private Mode added to Android and iOS apps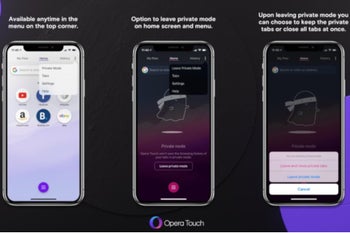 Opera Touch
made its debut on iOS
back in October, but the browser was only meant for iPhones, not iPads. Well, if you've been anxious to install Opera Touch on your iPad, you can do that starting today.
An initial version
of Opera Touch for iPad is now available for download via App Store.
Now, aside from bringing Opera Touch to iPads, the developer announced that a new Private Mode is now available both Android and iOS users. The new feature can be enabled from the 3 dots menu in the top-right corner of Opera Touch. You'll know that private mode is on because the browser will turn dark and a ghost will appear on the screen.
Private mode is meant to allow Opera Touch users to search for something without leaving a trace in the browser's history. Also, you can use private mode to log in to a service using different credentials than in a non-private mode. More importantly, private mode prevents websites from tracking you.
However, private mode won't allow you to become anonymous to your internet service provider or employer, which means they will still be able to see the pages you visit. To benefit from the new private mode, simply update Opera Touch for Android and iOS to the latest version via
Google Play Store
and
App Store
.