OpenMobile introduces a software layer for any platform that allows it to run Android apps, Apple mildly entertained
2
OpenMobile announced its Application Compatibility Layer (ACL) software today, and claimed it can bring Android to any platform. The goal of the technology is to make the thousands of Android apps available to various other gear, like mobiles with other operating systems, as well as TVs and set-top boxes.
The OpenMobile ACL tech has been in the works since last year, and the company will be demonstrating at CES Android apps running on various platforms and hardware, such as MeeGo, webOS and Ubuntu Linux. Down the road this year, the company expects to provide the ACL overlay for Windows, Samsung's bada OS and Tizen, RIM's QNX, and... Nokia's Symbian, which is still the most widely used mobile OS worldwide.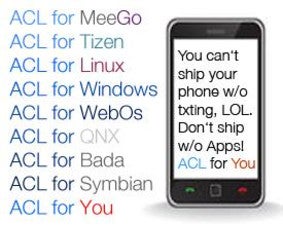 "
For the first time ever, OEMs can choose any device, any operating system, and launch with a robust Apps environment
", says the press release, but it is up to manufacturers and their sometimes deeply political considerations, whether progress will be implemented or fought. Of course, there is always the modding community to take advantage of compatibility software like this one.
Something tells us that Apple won't be endorsing the Android ACL tech on its devices any time soon, but the same internal voice is certain that Nokia N9 users will be very interested in OpenMobile's Application Compatibility Layer.