OnePlus 6 gets Android 9 Pie starting today
10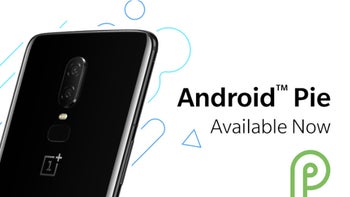 The Android 9 Pie software update for the OnePlus 6 rolls out starting today and this makes the phone one of the first flagship Android phones to receive the big update. To put things into perspective, it's been just a month and a half since the Android Pie update rolled out to Google Pixel phones, which is unprecedented quickness in the world of Android updates that often take anywhere from 3-4 months, and often half a year or more.
Android 9 Pie brings a bunch of improvements to the OnePlus 6. Here is a full changelog, right below:
Updated system to Android™ 9.0 Pie™
Brand new UI for Android Pie
New adaptive battery support
New Android Pie gesture navigation
Updated Android security patch to 2018.9
Other new features and system improvements
Do Not Disturb mode
New Do Not Disturb (DND) mode with adjustable settings
New Gaming mode 3.0
Added text notification mode
Added notification for 3rd party calls
Accent color
Supported accent color customization
The biggest feature that you will notice from the get go is the new gesture navigation with the pill shaped Pixel-like button at the bottom. OnePlus has already had its own take on gesture navigations and this is yet another new navigation method that we have found quite useful.
If you still have not received the Android 9 Pie update for your OnePlus 6, do not worry: this will be a staged roll-out and OnePlus starts with a small number of users today with a massive roll-out scheduled for the next few days. Also, try checking manually for updates by going into Settings > scroll all the way down to System Updates. Keep in mind that whether you get the update or not does not depend on your country, as OnePlus has started with a randomized roll-out, so using a VPN will not give you early access.
Have you received the update on your OnePlus 6? How do you like the new gesture navigation options and how does the phone feel after the update?