O2 UK will also add the BlackBerry Torch 9800 to its arsenal?
0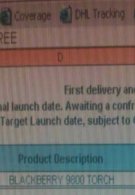 Nearing its one month mark of existence as it was launched in the US through AT&T Wireless, the BlackBerry Torch 9800 is looking to make a splash in the UK through O2. The mobile operator, much like Vodafone UK, is expected to offer the handset some time in the future – although there is no official word on it yet; just rumors. However, speculations regarding a launch with O2 are supplemented after an internal document was leaked showing that the latest BlackBerry smartphone has a delivery date of October 4 with the carrier.
Unfortunately, pricing is still a bit of a mystery for this slider, but it should fall in line to what Vodafone will be offering. If this indeed proves to be true, O2 UK customers will surely have something to look forward to this fall – which isn't too far away from now.
RIM BlackBerry Torch 9800 Specifications
|
Review
source:
iBenRowe