Nvidia shows Kepler-powered Tegra 5, unprecedented graphics power on mobile
33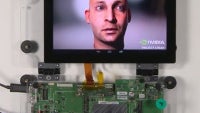 Nvidia has demonstrated its upcoming Tegra 5 mobile chip with Kepler graphics and it's a true monster. It's actually the first chip capable of rendering a 1080p lifelike model of the human face, the Faceworks "Digital Ira" model.
The upcoming Tegra 5 chip is codenamed Logan and built on a 28nm manufacturing node. It might be the first one to leapfrog Adreno and PowerVR competitors on ARM. We have actually already seen the first impressive
demos of Logan this summer
, but this one is truly impressive.
Nonetheless, this chip is still too power-hungry for mobile devices. The developer version of Logan consumes 2-3W of power while final Tegra 5 for phones should end up optimized to run at at around 1W. However on tablets, the Logan with Kepler combo is expected to be more powerful than the PlayStation 3. Impressive.
The test that really wowed us here renders a very realistic human face with all reflections, lighting, skin textures, and expressions. The Ira test runs on full 1080p and you can find a video of the demonstration right below.