NVIDIA wants to bring Kepler desktop GPUs to future "superphones"
10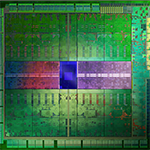 For those of you who aren't part of the desktop gaming crowd, NVIDIA also happens to make video cards for PCs. This week marks the release of the GeForce GTX 680, the first card based on a new architecture codenamed "Kepler". Normally this wouldn't really be smartphone news – for those of you that rock a high end gaming card in your home rigs, you know that those cards are significantly bigger than any phone (even the current phablet craze).
Yet in an internal email sent out by NVIDIA CEO Jensen Huang specifically mentions mobile devices. The relevant portion of the email is reproduced here:
"
Today is just the beginning of Kepler. Because of its super energy-efficient architecture, we will extend GPUs into datacenters, to super thin notebooks, to superphones.
"
Kepler is built on a 28nm die process – which is significantly smaller than the Tegra 3's 40nm process.
Shrinking the size of transistors leads to one of the few "more, better, faster" propositions in physics
; the smaller the size the less energy that is lost to heat, and as a result chips are faster, cooler, and more power efficient.
Obviously those are all desirable traits in a smartphone GPU. So if NVIDIA is determined to bring Kepler to future chipsets (Tegra 4?) that can only be a good thing for consumers. Of course a mobile variant probably wouldn't be clocked as high as the desktop gaming version of the chip, and some of the bus bandwidth may be more dependent on the rest of the mobile SoC (since you can't slap a foot-long graphics card into a smartphone).
If this is the path that NVIDIA pursues we may see true desktop-quality graphics processing in our next-gen mobile devices. This may be especially important to tablets, if Android or Windows 8 OEMs hope to compete with the resolution and graphics performance
found in the new iPad
. It should be exciting to see how other mobile chipmakers respond.
source:
Anandtech
via
The Verge