Notion Ink Adam hybrid display Android tablet to have a touchpad on its back
5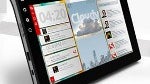 One of the most hyped tablets to come out of India these days is the Froyo-running Notion Ink Adam, mainly because it should be one of the first using the Pixel Qi hybrid display technology. It is essentially switching the LCD off, and using the ambient light outside to display a bright image, which makes it an excellent e-reader, but it can show videos in that state as well, and the battery life improves dramatically. You can read more about it in our article about screen technologies for smartphones and tablets
here
.
The folks at Notion Ink are claiming more than 16 hours of battery life for HD video watching alone, but six hours with everything turned on and the brightness on highest. Notion Ink is also launching its own content store, called Genesis, and customized software for painting, corporate-grade email, and file browsing, among others.
Besides having a speedy 1GHz dual-core Tegra 2 chipset, 10" screen, HDMI-out and 3MP swivel camera, Notion Ink lists in the tech specs on their website a "bonus mystery feature", which is rumored to be a physical trackpad on the back of the device. We can't comment on the usefulness of such feature before we see it in action, but it would be an interesting novelty nonetheless. At least you can keep screen smudges to a minimum, if well implemented.
The Notion Ink Adam is expected to be unveiled beginning of December - the highest-end model with a PixelQi display and 3G should cost $498. Notion Ink will be selling the tablet in the US first, and hopes to get a deal with a major carrier as well.
Below is a video of the 10" Pixel Qi (pronounced "chee") USB-powered prototype, compared to a regular 10" LCD. When the backlighting is turned off, it uses external ambient light reflected from the pixels to give bright, eReader type of experience with video capabilities outside under direct sunlight. With the backlighting off, the Pixel Qi draws a tenth of the power needed to run an LCD display. Useful, we guess, if you need to do a lot of reading in the sun.
source:
NotionInk