Would you like free AKG headphones or V-Bucks with that Note 9?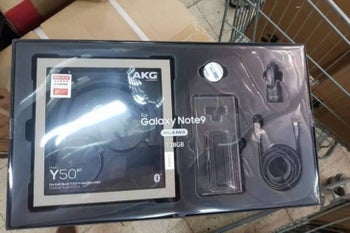 Beware of Samsung bearing gifts, say the ancients, but when it comes to the
Note 9
and its unavoidably high pricing, that old proverb is off, we'll take anything Samsung gives us. Yes, there will be gift packs to go along with the most souped-up Note ever, and they will seemingly
differ from a place to place
, but there are a few common denominators in every "value pack" that might go along with the handset.
In the Netherlands, for instance, the value packs include your choice of
$150 worth of V-Bucks
for the
Note 9-exclusive Fortnite
, or AKG wireless headphones, or both for $99. Given that just the AKG Y50 BT run for $299, it's a pretty good deal for gamers who want to play on their Note 9 undisturbed.
What will the US value pack look like, remains to be seen (we've been hearing an
IconX
bundle), but the above setup seems like a smart move - after all, the Note 9 will be heavily advertised as a
gaming phone
, apart from
anything else it already is
.