Massive Galaxy Note 9 heatsink will let you use desktop mode without a dock
8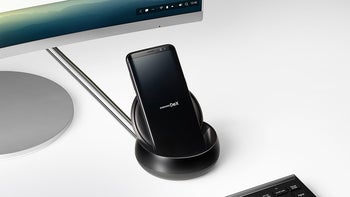 Sick of Note 9 news yet? No? Good, because we have some more! SamsungMobile.news tweeted about yet another internal feature of the upcoming
Galaxy Note 9
. Nothing really exciting this time, but a curious tidbit nonetheless. According to the tweet, the new phone will have copper tubes spreading under almost half of the device's back panel. Considering the Note 9 will have a
6.3-inch display
and some bezels, that's a lot of cooling.
One possible reason for Samsung's decision to use valuable phone real estate for cooling is that the Galaxy Note 9 is rumored to allow desktop experience
without the need for a dedicated DeX docking station
. Besides the ports that let you connect your Galaxy device to an external monitor and peripherals, both of Samsung's solutions – the DeX Station and DeX Pad have cooling fans as an additional feature. This allows the smartphones to work for an extended period of time without overheating, but if the Note 9 is to be able to do the same without fans keeping its temperature in check, it makes sense to have a beefier cooling solution. There will be one limitation of the direct connection, however, users will be able to use a maximum of 5 applications at the same time, down from the 20 you can have opened while the device is on a DeX dock.
Of course, the improved cooling will be great when using heavy applications for a long time, especially during a "heated"
session of Fortnite
.
This is probably one of the last few pieces of the Galaxy Note 9 puzzle we're putting together before the official announcement on August 9th.
source:
SamsungMobile.news
via
MSpoweruser