Samsung: Galaxy Note 9 will be the "only device you need" for work, play, everything else
66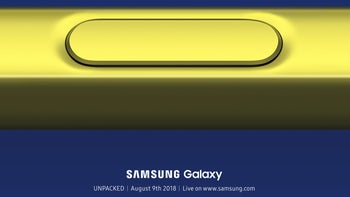 Here's the statement in full:
On August 9 in New York City, Samsung Electronics will unveil a device that will allow you to get the most out of everything you do. The newest addition to the Galaxy family's most premium line has been optimized from the inside out to keep up with users' busy lives, with technologies that raise the bar for smartphone power, performance and speed. Together, these enhancements make Samsung's newest flagship its most powerful yet, and the only device you need to manage work, play and everything in between.
As you can see, Samsung doesn't mention the name of its upcoming flagship phone. But it already (indirectly) confirmed that this would be a new Note featuring a Samsung-specific S Pen stylus. And, since the handset succeeds the
Note 8
of 2017, it's almost certain that its official name will be Galaxy Note 9.
Like Galaxy Notes of the past, the Note 9 should indeed be suitable for work and play - thanks in no small part to the
S Pen
stylus, which adds functionalities that most other flagship phones simply can't offer, since they have no styluses at all.
Of course, it remains to be seen if the new Note will be the "
only
device you need to manage work, play and everything in between," as Samsung says. We'll just have to wait for the day(s) when we can thoroughly test the phone to properly assess Samsung's statement. Until that happens, all this is nothing more than PR talk. But, hey, all companies rely on this when presenting new devices, aren't they?