Nokia to focus on consumer software, ditch part of its business-focussed unit, and acquire OZ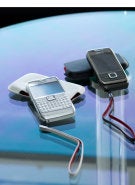 Nokia announced that it plans to cease developing or marketing its ownbehind-the-firewall business mobility solutions. Going forward, the company plans to form its enterprisesolutions offering by combining it's devices and applications withsoftware solutions from third party vendors such asMicrosoft, IBM and Cisco. It also revealed that it is in "advanced stages of discussions for thepotential sale of its security appliances business to a financialinvestor."
Nokia will instead renew its focus on the consumer market and as part of this has just announced that
it is to acquire OZ
, touted to be "the leading consumer mobile messaging solution provider" who "deliversaccess to popular instant messaging and email services on consumermobile devices". Unfortunately, OZ does not appear to offer its software for download. Instead, its software and service appear to be available only through selected operators, and we cannot comment on their utility.
Nokia's new focus bodes well for it's future. While the company has
long been the leader
in number of phones and smartphones shipped,
recent developments
have caused it to lose some marketshare. Equipping all phones with enhanced connectivity solutions could be key in regaining lost ground, especially while a key competitor supports only limited multitasking (and hence, sub-par instant messaging).
source:
Nokia
via
MocoNews.net
and
BGR