Nokia posts Lumia 820 hands on video
2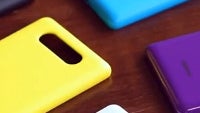 The Nokia Lumia 820 is a cute and colorful mid-ranger, and if you can get over its not so stellar screen, you'd be pleasantly surprised to find out it has the same dual-core Snapdragon S4 chip as its higher ranking Lumia 920 sibling.
Still, it looks like a pretty capable device given that we expect Nokia to price it significantly lower than the flagship Lumia 920. It has all those fresh new colors like yellow and red (if you're into that!), and the back covers are easily replaceable.
The addition of NFC and tons of perks like wireless charging makes it an even better deal. And now Nokia itself has posted a short hands on video of the Lumia 820. Check it out below.
source: Nokia