Nokia offering up to 50% discounts during 5 hour sale at Flagship stores and online
1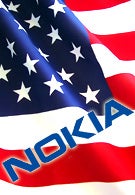 Nokia is chopping prices tomorrow for 5 hours starting at 11am EDT and ending at 4 pm EDT at the New York flagship store, which corresponds to 10 am through 3pm CDT at the Chicago flagship store. For those who cannot make it in person at the stores, the sale prices will be honored online during the same time period.
The 5800 XpressMusic will have 30% taken off its price tag to $280. The N79 will cost $260, a 39% reduction in price. Other devices on sale include the E71 ($285, 32% off), E75 ($380, 28%), N85 ($330, 33%), N95 8G ($355, 34%) and the N96 ($440, 57%). For those looking to take advantage of the sale prices online, go to nokiausa.com.
It's not going to get any better than this, so if you're looking to pick up that Nokia phone you've been drooling over, tomorrow is your big day.
source: NOKIA