Nokia announces Linux based Internet Tablet - the Nokia 770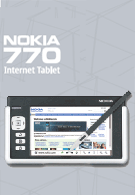 Nokia just announced, at the LinuxWorld Summit in New York, its first device in the new Internet Tablet category – the Nokia 770. It is dedicated device optimized for internet browsing and email communication. It features high-resolution (800 x 480) 4.13" wide touchscreen with zoom and on-screen keyboard. Online content can be accessed through Wi-Fi or Bluetooth connection with compatible mobile phone. During our pre-briefing with Janne Jormalainen, Vice President of Convergence Products, Multimedia, Nokia, we explicitly asked if they plan to add cell phone capabilities to the device, and the reply was that this will be a strictly Internet communications tool.
The Nokia 770 Internet Tablet runs on Linux based Nokia Internet Tablet 2005 software edition and the Open Source development platform (maemo) which includes widely deployed desktop Linux and Open Source technologies. It will provide Open Source developers with opportunities and tools to cooperate with Nokia on future devices and OS releases on the Internet Tablet category. Nokia will be launching regular updates of the software, and the next release will be in the first half of 2006, and will support VoIP functionally and Instant Messaging.
The Nokia 770 Internet Tablet is planned to start shipping in the third quarter of 2005 in selected countries in the Americas and Europe and will have a price tag of about $350.
Main specifications:
Running on Linux based Nokia Internet Tablet 2005 software edition

Internet connection via Wi-Fi(802.11b) or by Bluetooth(1.2) connection with compatible mobile phones

USB device mode for PC connectivity

4.13" wide touchscreen with 800 x 480 resolution

On-screen keyboard and handwriting recognition

Zooming, full-screen and panning functionality

5.55" x 3.11" x 0.74" (141 x 79 x 19 mm), at the weight of 8.11 ounces (230g)

RS-MMC cards supported, 64MB included

Memory: DDR RAM 64 MB, Flash 128 MB (>64 MB for user)

1500 mAh battery; standby time up to 7 days, browsing time up to 3 hours

Applications: Web browser, Email client, RSS News reader, Internet radio, Media players, Image viewer, PDF viewer, Flash player (V6), and File manager