Nokia Unveils new Phones and Accessories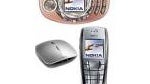 Nokia unveiled several new GSM phones and accessories during initial days of CEBIT exhibition in Hanover, Germany.
Nokia 6220 – tri-band GSM / EDGE (900/1800/1900) camera handset, featuring MMS, and color screen. Expected to start shipping in Europe, Africa and Asia Pacific reagions in Q3 of 2003.
Nokia 3300 – will be available with European (900/1800) and Americas frequencies (850/1900). Main features are integrated MP3/AAC player, FM radio and digital recorder and split QWERTY keypad. A USB connector allows the fast transfer of music files from the user PC to their phones. The phone should be available in fall 2003.
Nokia Digital Pen - enables consumers to create, store and share personal and colorful messages. It can store up to 100 A5 pages in digital format. This can be transferred to a compatible PC by putting the pen in the Connectivity Stand for Digital Pen, which can be connected to a PC via the USB interface. The Nokia Digital Pen can also support the use of services developed by 3rd parties. The Nokia Digital Pen SU-1B is planned to be available in the third quarter of 2003.
Nokia Image Viewer - Users can show and share images from their phones on a TV screen or video projector at home or in the office. Images are transferred wirelessly from a compatible mobile phone to the Nokia Image Viewer using Bluetooth technology. The connection between the Nokia Image Viewer and the TV or video projector is made with a retractable RCA cord. The pictures can be viewed either as single images or as a slideshow. The Nokia Image Viewer SU-2 is planned to be available in the second quarter of 2003.