Nokia NFC accessories shown off at WIMA NFC 2012 event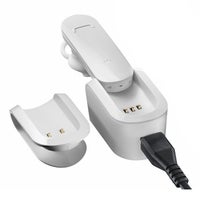 Alongside the Nokia Lumia 610 NFC smartphone, a handful of NFC-enabled accessories were demonstrated today during the WIMA NFC 2012 event, which Nokia is sponsoring.
One of them is a brand new device: introducing the
Nokia BH-310
- a Bluetooth headset optimized for in-car use. It features dual microphones and digital signal processing, which should result in superior noise suppression and echo cancellation. Of course, pairing it with your phone is as easy as just tapping the two devices together, and NFC takes care of the rest.
Nokia Play 360°
omnidirectional speaker. With a tap of your NFC-enabled phone, you can stream music to the speaker wirelessly, or if you prefer, there is a 3.5-millimeter headphone jack available as well.
The accessory was recently given a red dot design award for its looks and functionality.
Nokia Essence
is another NFC-enabled wireless headset, but it has been designed with music lovers in mind. It eliminates background noise by using the active noise cancellation technique. Again, you can pair the accessory with your NFC smartphone by simply tapping the two devices together.
Nokia Luna Bluetooth headset
, which was also present at the event. It is an NFC-enabled Bluetooth headset with a futuristic design and catchy looks.
What do you think of Nokia's range of NFC-capable accessories? Do any of them grab your attention? Let us know by dropping a comment below.