Nokia N9 dissection reveals what makes MeeGo tick
2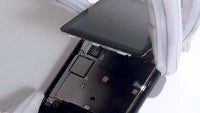 The MeeGo-running Nokia N9 is a unique device – even without a viable ecosystem, it managed to get a very warm welcome by the tech community and deservedly so. The MeeGo interface is a breath of fresh air in a mobile space overcrowded with me-too devices. But the Nokia N9 captivates not only with software, but with hardware as well. The polycarbonate body nests a gorgeous 3.9-inch Super AMOLED display, but underneath it is where all the magic happens.
But what if something goes wrong and you need a repair? The Nokia N9 isn't the easiest device to disassemble, but it's not the hardest either. The video below details the process showing you the steps one by one. Now, even with this kind of instruction it's easy to overlook something, so we'd definitely recommend you going to a repair center if you're not completely confident in your skills.
If you are, though, the teardown video is an excellent helper. It's in Russian, but that shouldn't stop you from looking as everything here is pretty visual, so take a look below to see for yourselves.