Nokia Maps brings voice-guided navigation to other platforms, pedestrians only for now
3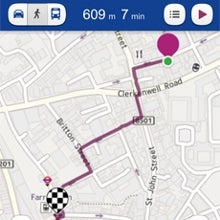 multibillion acquisition of NAVTEQ
a few years ago.
It was only Nokia handsets so far, however, that could use
free offline voice-guided navigation
. Now the Finns are getting generous, and allowing Android and iOS devices to take advantage as well, with the web version of Nokia Maps. There is a caveat, though - for now
the voice-guidance only works in pedestrian mode
but it's a good start anyway
.
This will get you on your merry way exploring any new city without getting lost, since it can pump "turn left/right" comments right into your ear. Let's not forget that the
web version of Nokia Maps sports public transport routes
as well. Such is the power of HTML5 web apps, and these might eat the app stores' lunch one day.
Moreover, the web version of Nokia Maps allows you to download
precached areas of your choosing over Wi-Fi
at home for offline access later, so you don't have to splurge for data charges when abroad, for example. The advantage before Google Maps - voice guidance will work everywhere Nokia Maps has such coverage, and it is close to 100 countries worldwide now.