Nokia Maps now offers offline capabilities and public transport routes for Android and iOS users
8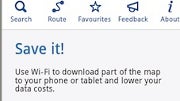 Ever since
Google Maps hit version 5.0
, users have been able to
precache a larger area of their route for offline navigation
. While it's no substitute for free offline voice-guided services like Nokia Maps, it has been a good way to keep your data consumption down by downloading the area via Wi-Fi before you head somewhere.
Now the online mobile edition of Nokia Maps is offering the same feature for both Android and iOS users. Just head to the Nokia Maps mobile website, and the HTML 5 service allows you to download a preselected neighborhood for offline usage, then turn off data and head on your merry way, but you still have to get reconnected if you want to do reroutes or searches. The HTML 5 online version also lists POIs with descriptions, as well as
public transport routes
and live traffic in selected cities and countries.
It would be interesting to follow if Nokia Windows Phones will come with a free offline voice-guided navigation courtesy of Nokia Maps, like their Symbian brethren, which will be a nice added value that will differentiate Nokia from the WP competition.