Nokia C6 gets green light from FCC, to be launched at CeBIT?
0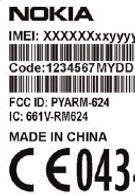 First things first. As we previously
told you
, Nokia's C6 took a trip to visit the FCC. The FCC gave the handset the ol' thumbs up and with 850, 1900 and 2100 MHz 3G, this could be headed AT&T's way. We don't have much more in the way of info about the actual specs of the device. But we can tell you that Nokia CEO Olli-Pekka Kallasvuo told Nokia Conversations that the Cseries might be ready to make its debut in front of the public at the CeBIT show. Jolly Olli said, "Of course, we don't comment on rumours or leaks, but we are looking forward to C BIT for the next series of Nokia announcements. Right, we're off to pack our rucksacks and lederhosen. C you there." Hey, a piano doesn't have to fall on our heads. We get it with all of the "C" references it sure looks like the Cseries will soon be out in the open. Now the question is, will we see the C5 the C6 or both of them? The show starts Tuesday in Hannover Germany and concludes a week from Saturday. If you plan on going, don't forget your rucksack, whatever that is!
source:
FCC
via
Engadget