Nokia C3-01.5 leaks with 1GHz processor, might chart the future of Series 40
16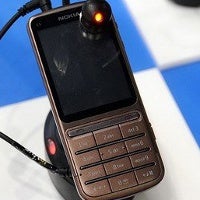 The
Nokia C3-01.5
might have one of the most unusual names in Nokia's lineup, but it will surprise you with more than just a name. This candy bar handset doesn't look any different than the C3 Touch and Type, but it sports a
powerful 1GHz chip
and
512MB of RAM
, and might be the blueprint for future Series 40 devices. Yes, we're no less confused than you to see a 1GHz chip for Series 40 and the relatively small
2.4
-inch capactive ClearBlack screen of the device, given that even Nokia's N8 has a 680MHz processor, but that's exactly what the C3-01.5 seems to offer.
similar models expected
in Nokia's pipeline. The C2-01.5 (or the RM722), C3-01.5 (RM-702), X2-01/X2-03 (RM-709), X3-02.5 (RM775 or RM-776) and the X2-01.1(RM-717) all seem to be upgraded versions of previous Nokia phones.
Does that seem exciting, puzzling or both? The new low-end Nokias might beat some current mid-range offerings in terms of pure specs, if true, but until Nokia World in September unveils the answers, we're left with speculations. What are your initial thoughts about the Nokia C3-01.5 and its mighty chip? Feel free to share them in the comments below.