Nokia 6650 - first WCDMA / GSM phone
0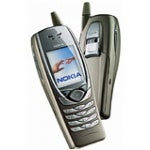 | | |
| --- | --- |
| | Nokia 6650 |
Nokia today announced the world's first 3GPP (Third Generation Partnership Project) compliant mobile phone operating both in the GSM 900/1800 frequencies and on the WCDMA (Wideband Code Division Multiple Access) protocol. Even though this phone will not work in US, it is a milestone in the wireless communication evolution. That is why we are spending the time to introduce it here.
The first deliveries for operator-controlled live network tests of the Nokia 6650 phone will start during fourth quarter, 2002. The first commercial deliveries of Nokia 6650 are estimated to start during the first half of 2003.

Both the GSM and the WCDMA chips are placed on one circuit, enabling powerful talk times (up to 2h20min in WCDMA and up to 2h 40min in GSM) and standby time (up to 14 days).
Another never seen before in Nokia phones is the capability to record video and sound simultaneously. The VGA camera can be activated rapidly just by opening the lens cover of the camera. In addition to still pictures, you can capture video clips - with audio – for up to twenty seconds, in 4096 colors. The pictures or clips can be viewed and stored in the Nokia 6650, or sent to either a compatible phone or to an email address as a multimedia message.
The Nokia PC suite software for 6650, the users can view and edit the multimedia contents of the phone on their PC. They can even compose personal movies by collecting different video clips under the same playlist, arrange them into their preferred order and play them back like a movie. With the PC Suite for the Nokia 6650, it is also possible to synchronize personal data such as calendar and contacts between PC and the phone. The PC Suite will be delivered to the consumers as a part of the sales package of the Nokia 6650.
The Nokia 6650 phone also includes a WAP 1.2.1 browser supported by GPRS, MIDP Java 1.0 technology for downloading additional applications to the phone, support for polyphonic ring tones, wallet application for mobile transactions and excellent data connectivity possibilities via USB, Bluetooth and infrared.