Nexus 5 appears in the flesh: images pour from around the globe, along with Android KitKat features
46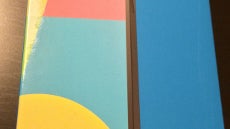 It's not hard to fathom that the
Google Nexus 5
launch is finally imminent, as today brought a flurry of images, unboxing and hands-ons from all over the world that depict the long-teased handset. We've got people chipping in from Ireland, UK, Switzerland, and Reddit users answering questions with phone in hand.
The AMA session returned some interesting tidbits about the
Android 4.4 KitKat
niceties that will debut with the phone. There seems to be some kind of overarching backup solution created by Google, think iCloud for Android, as it seems to back your app settings, saved games and the like, so a pretty far reaching feature if it pans out with a bunch of storage, too, like mentioned.
As for design, camera and battery life, the user mentioned it feels pretty good in the hand, the camera is of average quality, and the phone would last you about 8 hours during browsing and 6 hours of video watching, so about what we'd expect from a 2300 mAh unit.