Next-gen chipsets get benchmarked; list includes NVIDIA Denver 2, Apple A9 and A9X, Kirin 950 and more
98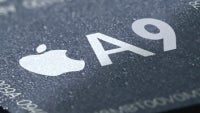 A number of next-generation chipsets have been run through the Geekbench benchmark test, and the results were posted on a graph comparing the scores. The NVIDIA Denver 2 had the highest single-core score at 2599. The highest multi-core score came from the Samsung Exynos M1 with a tally of 7497. That score was well ahead of the competition. Huawei's Kirin 950 was next with a score of 6096.
According to the graph, the Apple A9 chipset produced single and multi-core scores of 2090 and 3569, respectively. The A9X had a single-core score of 2109, while scoring 5101 in the multi-core test.
Other details revealed by the source include the Denver 2's ability to achieve an off-screen frames per second rate of 117 with the GFXBench 3.0 Manhattan benchmark test. Still off-screen, the NVIDIA chip was able to render 206.9 fps in Tyrannosaurus. Running the Exynos M1 through the same two benchmark tests off-screen resulted in speeds of 59.4 fps and 108.9 fps, respectively. The Apple A9 (off-screen) had a speed of 30.3fps on GFXBench 3.0 Manhattan, and 66fps in Tyrannosaurus.
According to the Weibo posting, the Kirin 950 SoC will be built using the 16nm process and will feature the Mali-T880 MP6 GPU. LG's NUCLUN 2 will be produced by TSMC using the 16nm process, and will carry a quad-core Cortex-A72 CPU running at a clock speed of 2.1GHz, along with a quad-core Cortex-A53 CPU running as fast as 1.5GHz.
Weibo is a micro-blogging site that is quite popular in China. As far as mining information from the site, it is a little like the Wild, Wild West. We have seen great tips, and some that were not so great. As such, we suggest that you take this story with the proverbial grain of salt, Mrs. Dash, or whatever salt substitute you use.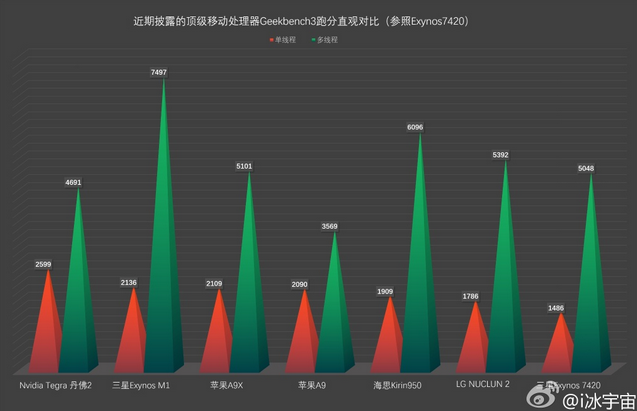 Next-gen chipsets are put through the Geekbench benchmark test
Thanks for the tip!
source: Weibo (
1
), (
2
), (
3
), (
4
), (
5
), (
6
), (
7
), (
8
) via
GforGames