Next-gen HTC Desire smartphone to be announced at CES 2015
10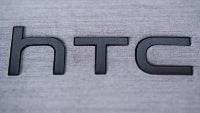 It appears that CES 2015, which is going to take place in just a week from now, will not pass without HTC's presence. However, High Tech Computer's January proposition may not be so decidedly high-tech, if a recent post on the company's Weibo page is to be taken into account.
HTC has published a teaser image which has us know that the reveal is going to happen on January 6, and that we should "Always Desire more." And while "desiring more" is something we definitely do when it comes to the company's recent One handsets (and their cameras), the Desire mid-rangers have been doing reasonably well as of late. We guess HTC would like to keep the momentum going by adding a fresh, new entrant to the venerable line, and really, what else could "Always Desire more" mean, other than that a new Desire phone is on the way? As much as we would love to see the next flagship smartphone from the manufacturer at CES, it's starting to look like we'll have to wait a bit more, probably until or shortly after March's Mobile World Congress (the One (M8) got announced about a month after MWC '14).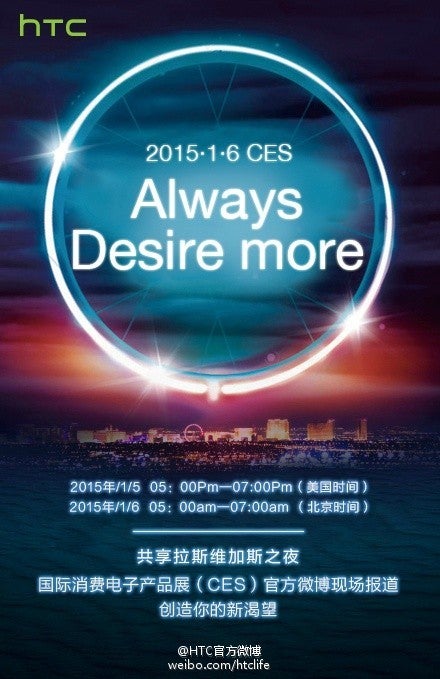 A new Desire smartphone seems to be on the way.
The only question that remains is what kind of Desire phone HTC is going to announce at CES. It does seem a bit early for a
Desire 820
successor; after all, that one premiered at IFA 2014 (beginning of September), only to launch even later in most markets, mostly during October and November. The other interesting Desire handset of late, the
Desire EYE
, on the other hand, appeared even later, so we doubt it that HTC will be in such a hurry to launch an upgraded version. The rest of the Desire pack consists mostly of unexciting entry-level and lower mid-range products, so we hope that the company is gearing up to show something completely new here - a new twist to the Desire formula. At least we're hopeful HTC is willing to experiment, seeing what they did with the Desire EYE and its imposing front-facing snapper. One last detail we should mention before we quit speculating is that the Snapdragon 410-powered Desire 620 (
which is already official
)
is said to see its international release in January
, but since a version of the Desire 620 is already available in China, we don't think that HTC would be bothering its Chinese fans with a teaser about the 620's international release. In other words, it doesn't seem like the Desire 620 will be the star of the show, come January 6.
You can count on us to keep you posted during CES 2015 - we'll be reporting live from the show floor with news and first-hand experiences, so stay tuned to PhoneArena, and we'll see exactly what HTC and its rivals have in store for us. Meanwhile, be sure to
come this way
for a nice round-up of our expectations of CES 2015.