New teaser fuels China Mobile iPhone rumors
3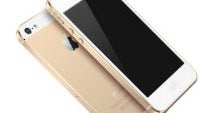 There have been fairly constant rumors that Apple has been working on a deal that would bring the iPhone to the world's largest mobile carrier -
China Mobile
. The rumors had assumed that a deal would be announced in time for the iPhone 5s and 5c launch last month. That didn't come to pass, but a new teaser is bringing back those rumors.
Of course, in true rumor fashion, there is little about the teaser put out by China Mobile that points to Apple in any way. The teaser itself only refers to the launch of China Mobile's 4G service that is planned for November 9-11. The question about Apple comes because the generic devices used in the teaser look like iPhones. To be clear, they don't look like modern iPhones, but rather look like a generic iPhone 3G.
But, the real proof of something being on the horizon is that some China Mobile stores have begun putting up iPhone posters ahead of the launch. And, Apple has made sure to get regulatory approval for its new iPhones to run on the TD-LTE network that China Mobile is about to light up. So it certainly seems true, and it would be big for Apple by opening up the company to the carrier's approximately 740 million subscribers.