New premium leather bands by DODO, along with a variety of color options, available for Motorola Moto 360
23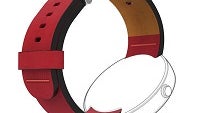 The stylish
Motorola Moto 360
is among the more handsome of Android Wearables, aided by a number of attractive wristband options for those that own one.
Those wristbands got some added style with the introduction of some snazzy new leather options from designer outfit DODO. Like many new stylish accessories though, the DODO straps do come at a cost.
Thankfully, these super-nice looking straps do not cost as much as the metal bands that Motorola sells (at $80 apiece). The DODO leather bands are a $60 option, but also add several color choices to the mix. The Pergamena leather bands can be had in blue, green, red, and tan.
The ensemble is quite elegant looking, with some subtle stitch accents, and no color treatment on the skin-facing side of the strap. The new styles augment the readily available $30 leather options that come in black, stone, and cognac colors.
The Moto 360 was already packing a lot of style, the new DODO leather options add to the portfolio.
sources:
Motorola
via
Android Central