New leak reiterates November launch for Moto Maker on Verizon
3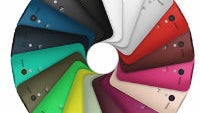 One of the most annoying things about the release of the Motorola Moto X was that the Moto Maker customization software was available only to AT&T customers and no one else. The early rumors on the topic said that Moto Maker would be opening up to other carriers in
November
, and a new leak is reiterating that claim at least for the Verizon variant of the Moto X.
According to renowned leaker evleaks, the Moto Maker customization options will be made available for Verizon customers on November 11th, which would make it just over one month from now before Verizon users can customize their Moto X device with backplate colors, accent colors, and other personalization (we're hoping that engraving is fully functional by then.)
Unfortunately, there is still no word on when the Sprint version, U.S. Cellular version, or the unlocked (aka T-Mobile version) of the Moto X will get in on the Moto Maker software, but we can't imagine Verizon having much of a headstart on the other variants, especially with it getting so close to holiday season. Motorola will want to have the Moto Maker software opened up to everyone before the end of November at the latest. We'll have to wait and see though.