Microsoft's Edge browser now warns you when you're reading fake news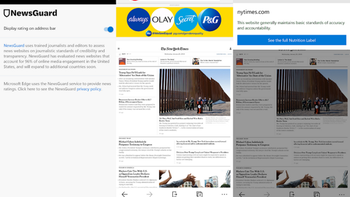 For those who have a problem trying to separate real news from fake news, the mobile version of Microsoft's
Edge
browser will try to help. A recent update sent to both
the iOS
and
Android versions
of the app adds a feature from a company called NewsGuard that uses trained journalists to rate news websites. These ratings are based on "journalistic standards of credibility and transparency."
To enable the feature, go to the settings menu for the Microsoft Edge browser, click on News rating, and toggle to on. After that, when you open a news website that is rated by NewsGuard, you will see in the URL bar either a green shield with a white check mark, or a red shield with a white exclamation mark. Tap on either icon to see what NewsGuard says about the site you are getting news from.
The green shield, which appears on sites like
The New York Times
, means that the site "generally maintains basic standards of accuracy and accountability." A red shield, which appears when you browse the U.K.'s
Daily Mail
, warns you to "proceed with caution" since that particular website fails to "maintain basic standards of accuracy and accountability."
The idea is to get your news from sites approved by NewsGuard, and to take reports from other sites with a grain of salt. Note that this feature is found only on the mobile version of the Microsoft Edge browser.