New color: Samsung Galaxy S4 Active leaks out in Blue Arctic
11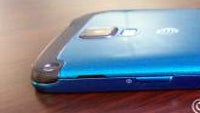 Samsung announced the
Galaxy S4 Active
, a high-end waterproof smartphone, last week and official images only portrayed an orange model, but now the S4 Active has leaked out in another color, Blue Arctic.
The handset will use a combination of that specific shade of blue combined with strips of black on the top and bottom.
The blue S4 Active is expected to have the same features as the orange one: a 4.99" LCD screen, an 8-megapixel rear camera, and most importantly dust and water resistance with an IP67 protection rating. That means the phone is completely dust proof and will function normally even when you submerge it in water as deep as 1 meter and hold it for as long as 30 minutes.
The rugged S4 Active differs from the flagship S4 not just in its resistance to the elements, but also because it uses an LCD screen instead of AMOLED, and an 8-megapixel camera instead of a 13-megapixel one.