New TV ad for Motorola Moto Z says we've seen no innovative smartphones since 2007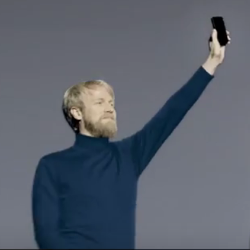 A new television ad for the
Motorola Moto Z
series takes aim directly at Apple. "Remember 2007 smartphones? Game changing OMG," says the female announcer as the video shows a person that is supposed to be Steve Jobs introducing an iPhone-like device. The announcer says that since then, the camera got better, the headphone jack moved and Rose Gold is a color, not an idea.
Motorola says that it is time to stop accepting 'same' and start demanding different. And by different, Motorola means the Moto Mods that quickly attach to the back of a Moto Z model. Each Moto Mod brings a different feature. The ad mentions the JBL Sound Boost, the Insta-Share Projector and the Hasselblad True Zoom camera with 10X optical zoom. Other Moto Mods include the TUMI Power Pack, the TUMI
Wireless Charging
Power Pack and the Kate Spade shell.
"Did Moto just make the smartest smartphone yet?" asks the announcer? That question rings in your ears even as the ad ends. Motorola employed the same technique when it called the
Motorola Atrix 4G
"the World's most powerful smartphone" back in 2011.
Truth be told, Motorola has made its modular accessories much easier to use when compared to LG's clunky system on the
LG G5
. While Motorola's statement that there have been no innovations in the industry since 2007 is far from the truth, we will go ahead and agree that the Moto Mods system does bring something to the table that feels genuinely fresh.
source:
Moto
via
Techdroider