New Sony Extra Bass headphones and wireless speakers are announced at CES
5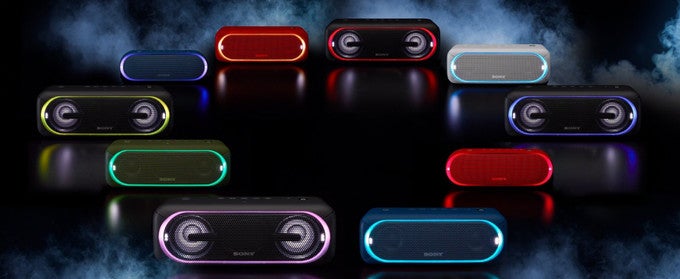 When I was younger, I had a Sony Walkman cassette player, and that Walkman had a big Extra Bass button on it. That button was always in the On position – it gave my music that extra punch it needed to satisfy my teenage ears. Since then, Sony's Extra Bass has evolved into a whole range of products, and the latest members are currently on display at CES.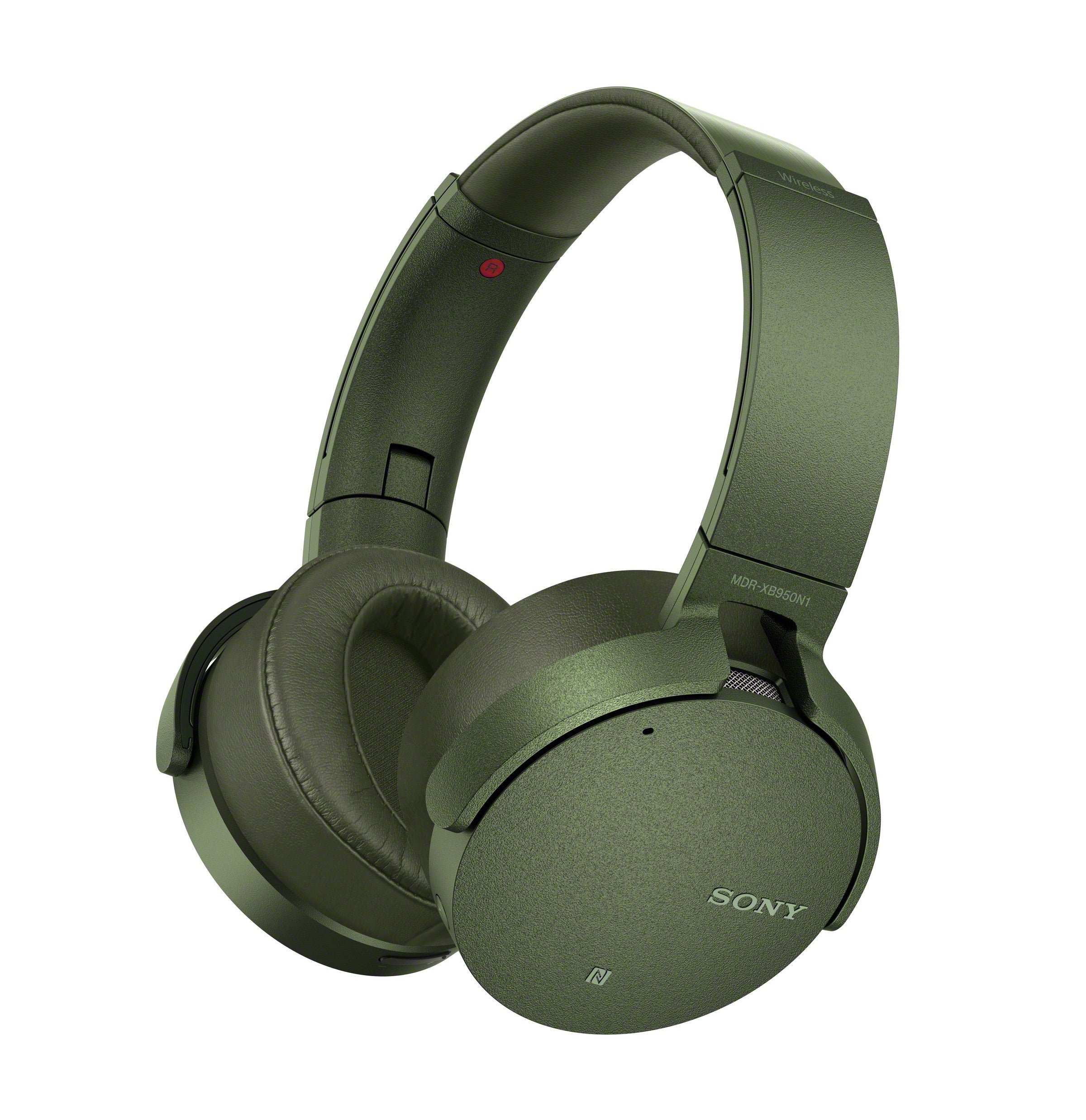 Sony MDR-XB950N1 Extra Bass with active noise cancellation
There are four new Extra Bass earphones being shown, and the largest of them are the MDR-XB950N1 (pictured) and MDR-XB950B1. While these two models are mostly identical, the former includes active noise cancellation. That aside, both wrap your ear fully and connect to your mobile device via Bluetooth connection. There's also NFC for easy pairing, as well as Apt-X and AAC codec support for better sound quality when paired to compatible devices. Battery life is rated at 22 hours for the noise-cancelling N1 model and 18 hours for the B1. To save battery, you may also listen to music over the provided and detachable 3.5mm-jack cable.
Moving further down the line, there's the MDR-XB550AP – a set of wired Extra Bass on-ear headphones. While there's nothing fancy about these, their large, 30-millimeter drivers promise to deliver punchy sound. Plus, there's an in-line remote with microphone, allowing you to make calls and control music playback. Controls are customizable via a free Android app.
Last but not least, there's the MDR-XB510AS. This is a wired set of Extra Bass earphones with sporty and compact design. They're protected against rain and sweat, while specially shaped ear hooks provide comfort and support.
All four earphone models will launch in spring of 2017, but if you're at CES, you may take a look at them at Sony's booth. Prices are to be announced at a later time.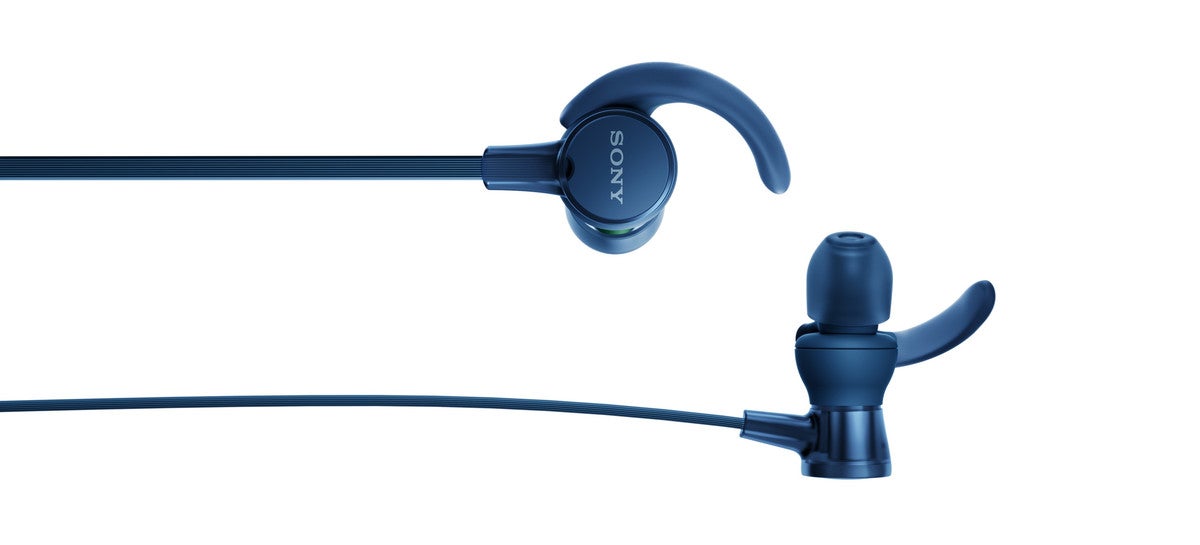 The Sony MDR-XB510AS Extra Bass is a sporty set of wired earphones
The Extra Bass lineup is also being expanded with four new portable wireless speaker models. Interestingly, three of them are made to entertain with more than just sound. The top model in the range, the SRS-XB40, features LED light effects, a strobe flash, and illuminated speakers. Lights are able to sync with the rhythm of the beat, and their color blends with the mood of the music. The smaller SRS-XB30 and SRS-XB20 also feature less-sophisticated light accents.
Technical details are scarce at this time, but all these three speaker models produce stereo sound backed by passive radiators for enhanced bass. Battery life for the XB40 is rated at up to 22 hours. They're also splash-proof, in case you feel like using them around the pool.
And the SRS-XB10 is Sony's most portable Extra Bass Bluetooth speaker. Unlike the three models mentioned before it, it has only one speaker radiating sound in all directions, although you can hook up two of them to achieve stereo sound. It is also resistant to water and light rain, while the built-in battery lasts through up to 16 hours of playback.
All of Sony's new Extra Bass Bluetooth speakers will launch in Spring of 2017.
Sony Expands the EXTRA BASS™ Headphones Series Powerful, Enhanced Bass Provides Music You Can Feel!
New additions to the EXTRA BASS headphones series enhances the listening experience for popular music genres
LAS VEGAS, January 4, 2017 – 5pm PT (CES, Booth #17300) – Sony Electronics announced today that it will further expand the EXTRA BASS headphones series designed to enhance the listening experience for today's most popular music genres. The four additional members of the EXTRA BASS family are the MDR-XB950N1 wireless noise cancelling headphones, the MDR-XB950B1 wireless, the MDR-XB550AP which comes in a wide variety of colors, and the MDR-XB510AS water-resistant, in-ear sports headphones. This enhanced lineup enables users to enjoy the intensity of deep bass notes in a variety of locations and scenarios. Users can feel comfortable enjoying premium sound quality with bass booster no matter where they are.
The MDR-XB950N1 and MDR-XB950B1 EXTRA BASS Wireless Headphones

The MDR-XB950N1 and MDR-XB950B1 wireless headphones deliver powerful, enhanced bass response – the MDR-XB950N1 has added noise cancelling technology. Both support Bluetooth® audio streaming and simplified connectivity with Near Field Communications (NFC) technology, making it easy to connect wirelessly. For the ultimate wireless audio streaming experience, aptX®& AAC codec support ensures maximum signal quality.
The MDR-XB950N1 and MDR-XB950B1 listening experience can be controlled with a unique smartphone Sony | Headphones Connect app, which enables listeners to emulate different listening experiences: Arena, Club, Concert Hall, and Outdoor Stage. It is also possible to adjust the bass levels to suit your personal preference. For the MDR-XB950N1, this app can turn the noise cancelling settings on or off.
The MDR-XB950N1 headphones are easy to fold and come with a handy carrying pouch and the built-in rechargeable battery provides up to 22 hours of continuous, wireless music playback for the noise cancelling XB950N1. The XB950B1 provides up to 18 hours on a full charge. When your battery does run low, passive mode allows for continued listening with the supplied cable. With both the MDR-XB950N1 and MDR-XB950B1 users can enjoy the convenience of hands-free calling thanks to the integrated microphone and Bluetooth® profile connectivity. Once your phone is paired, simply press the phone button on the earpiece to accept incoming calls then press again to terminate the call. Music playback will automatically resume once the call is completed.
MDR-XB550AP EXTRA BASS Wired On-Ear Headphones

The MDR-XB550AP wired headphones feature a premium metal headband and their specially designed ear cups work in conjunction with the drivers to deliver powerful, deep and punchy enhanced bass response. The 30 mm driver units deliver balanced sound with exceptional low-end, with 5 – 22,000 Hz frequency response. The MDR-XB550AP will be available in five fun colors: black, red, blue, green, and white.
The in-line remote with microphone allows for simple control: call answer/end, and audio track play/pause functionality, and the durable, finely-grooved serrated cable reduces tangling. A Smart Key App (available at Google Play™) lets you customize the control of the in-line remote via your smartphone
MDR-XB510AS EXTRA BASS In-Ear Sports Headphones

The specially designed MDR-XB510AS in-ear sports headphones work in conjunction with the drivers to deliver powerful, enhanced bass response. The easy to wear style with arc supporter provides a perfect, stable fit for active users and with an IPX5/7 water-proof design, the XB510AS can be worn while running in rain or sitting around the pool. They are also highly sweat resistant, so users can exercise without compromising comfort.
The XB510AS headphones come with a clip, arc supporter, cord adjuster, and mesh carrying pouch help to further enhance your workout, before, during, and after.
Sony Expands EXTRA BASS™ Wireless Speaker Series with Deep Bass Notes for Today's Music
New EXTRA BASS Series livens up any party with powerful sound and flashy lighting, in a compact, portable size.
LAS VEGAS January 4, 2017 – 5pm PT (CES, Booth #17300) – Sony Electronics announced today that it will further expand the EXTRA BASS series to include four new portable wireless speakers designed to enable users to enjoy the intensity of deep bass notes in a variety of locations and scenarios. Made for today's heavy-hitting bass lines and dropping beats, EXTRA BASS technology delivers powerful, clear bass sound where it's hard to find—in a compact, portable speaker. The result is a full, deep, resonating sound that's perfect for EDM, Hip-Hop and other popular music genres. All speakers feature easy, one-touch connectivity and music streaming with NFC and Bluetooth® compatibility and the SRS-XB40/XB30/XB20 models have special lighting effects.
Thanks to these speakers' compact size and long battery life, they can be easily picked up and moved to where the action is. The perfect combination of style and portability, this newly expanded EXTRA BASS wireless speaker series looks and sounds great wherever you put them, indoors or out. Take them to a pool party with the peace of mind knowing that the IPX5[1] rated water-resistant design will protect them against splashes. The SRS-XB40/XB30/XB10 offer a flexible two-way design providing great sound, wherever they are placed. Set them up horizontally, or flip it upright if short on space.
The SRS-XB40, SRS-XB30, and SRS-XB20 Wireless Speakers – A Portable Party
The 4 by 11 inch (100mm by 279mm) SRS-XB40 features club-like lighting effects with an LED perimeter line-light, a strobe flash and speaker light. The line-light creates multicolor patterns, ranging from pure white to rainbow. Synchronizing with the rhythm of the beat, the power and speed of the light display matches the music's mood and atmosphere. The 3 by 9 inch (82mm by 28mm) SRS-XB30 has a similar multicolor line-light and strobe flash, and the 2 ½ by 8 inch (68mm by 198mm) SRS-XB20 features a single color line-light which compliments the speaker color.
Using the wireless party chain, speakers can be connected to each other to enable users to enjoy a performance featuring synchronized lights and great sound. Up to 10 units can be interconnected via Bluetooth®, mix and match the XB40/XB30/XB20 models and use them interactively. It is also possible to pair two speakers of the same model together to enjoy stereo sound. The stereo mode takes advantage of two independent audio channels in order to create the impression of sound being heard from various directions, similar to natural hearing.
With the XB40/XB30/XB20 models you can use the SongPal™ app on your smartphone to start music playback, turn on/off the speaker lighting, add a speaker, and more. The Fiestable app, for the SRS-XB40 only, enables DJ-like controls for lighting and colors.
Other great features include Voice Guidance, which announces the battery life level. These models also allow multi-device connectivity, meaning that more than one smartphone can be connected at the same time, enabling users to quickly switch between music sources. With the SRS-XB40 and XB30 it is also possible to recharge a smartphone by connecting it to the USB-A port via a USB cable, which enables the speaker to be used like a portable battery when the user's smartphone battery is running low. Plus, all of these models, when paired with your smartphone, can be used as speakerphones.
SRS-XB10 Wireless Speaker – A Very Portable Party

For those really on the go, the approximately 3 and ½ by 3 inches (91mm by 75mm) SRS-XB10 offers EXTRA BASS sound, incredible loudness and punchy bass in a tiny body. Thanks to a long battery life of approximately 16 hours it's possible to keep the party going all night long and well into the next day.
Take advantage of its super-compact size and portability and enjoy the music anywhere. Two listening styles can optimize the users' experience. In vertical mode, the omnidirectional sound can be enjoyed by a group of friends. In horizontal mode, the music is directed straight to the listeners' ears. The silicon strap becomes a stand for the tiny speaker to help direct the sound. The same strap can also be used to hook the speaker to a backpack or just about anywhere, so that great tunes are always in reach. And like the XB40, XB30, and XB20, the new XB10 features a water-resistant IPX5 design that will give you peace of mind when the party is poolside.
The XB10 can also be paired with another XB10 to provide stereo mode to create a broader sound space and the impression of hearing music from various directions. Plus, when paired with your smartphone, the XB10 can be used as a speakerphone.
The SRS-XB40, SRS-XB30, SRS-XB20, and XB10 wireless speakers will be available Spring 2017. Pricing and dealers to be announced.