New Ice Cream Sandwich release candidate for the HTC Rezound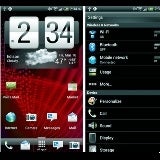 Back in March, you may remember that there was a
leaked
Ice Cream Sandwich
build for the HTC Rezound. Now comes the newest version, which is the second release candidate to be leaked.
This new leak is
version 3.13.605.7
(the one from March was 3.11.605.22 if you're keeping track) and also includes a new radio baseband. Keep in mind that this is still not official, so there is always the possibility that it may still contain bugs and damage your phone. But those of you who are feeling adventurous can give it a try. Remember, that the phone needs to be stock with the factory locked boot loader (S-Off) and not rooted for the update to install.
You can download the file from
here
(603MB). Once the download is complete, rename the file to PH98IMG.zip and place it in the main (root) directory on the phone's memory card. Turn the phone off, then start your phone by holding the Power and Volume Up buttons at the same time. This will automatically start the flashing process, which will also wipe all your data from the phone's internal memory, but data stored on the memory card will still be there.
Changelog:
Facebook force close when you tap a video album
Roaming charges when in Canada & Mexico
Resets
"Android updating" message on power up
Camera not launching
Hotspot turning off after 10 minutes
Exchange mail account removed after FOTA
Car dock limiting charging current
"Set Current Date" popping up frequently
BUA+ (multiple issues)
Flash player removed
OTA over incorrect APN
OTA SW update time
Camera dark when using Facelock
Text field difficult to read
source:
Android Police