The HTC Rezound gets an Ice Cream Sandwich release candidate
23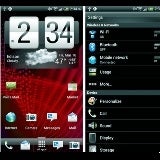 As of now, the only Verizon smartphone to run Google's most recent version of Android (Ice Cream Sandwich) is the Samsung Galaxy Nexus. Though quite a few other
Verizon devices
are looking to get an update (eventually). The question is, which one will be first?
It appears that it may be the
HTC Rezound
. We've
already seen
one leaked ICS update for the device earlier this year, but it was still a beta version. Now comes a
release candidate
, which hopefully means the final version isn't too far off.
For those of you feeling adventurous, and comfortable with flashing your phone, you can install it on your Rezound, though there are
a few things to keep in mind:
This may not be the final ICS version - as there still may be issues/bugs with it. The phone needs to be stock with the factory locked boot loader, not rooted, and running software version 2.01.605.11. You may have to reinstall your apps and settings after the update. Once the release candidate is installed, you may have to re-flash the phone back to stock to get the final over-the-air ICS update.
With that said, you can download it from
here
(610MB), which is
Android 4.0.3, Sense 3.6, Software Version 3.11.605.22
.
Once the download is complete, rename the file to PH98IMG.zip and place it in the main (root) directory on the phone's memory card. Turn the phone off, then start your phone by holding the Power and Volume Up buttons at the same time. This will automatically start the flashing process.
Features/Enhancements
1. Android OS 4.0.3 (Ice Cream Sandwich)
2. CMAS support added
3. IPv6 over eHRPD supported
4. UI updated to Sense 3.6
5. Caller Name ID app added
6. VMM/BUA plus updated
7. New storage UI (under settings menu)
Issues Resolved
1. Changing pin causes EULA to be displayed
2. Wrong time displayed in and around Phoenix, AZ
3. EAS message - "Client/Server Conversion Error".
4. EAS message – "Exchange policies have changed"
5. EAS message – "Certificate Error"
6. Home screen partially blocked with black bar
7. Hotspot data stalls
8. Removed power mode settings (which forced device into CDMA only)
9. Group message not displaying originating MDN
10. Call button not disabled when using voice commands
11. People widget displaying two different birthdays
12. Verizon Location Agent removed – impacting battery life
13. SSO athentication fails for VCAST Tones
14. "To" field text deleted if device is rotated (in Compose or Forward Voicemail)
15. Google Talk app formatting
If you install it on your HTC Rezound, please let us know in the Comments section below.
source:
androidpolice