NYPD Blue: All 36,000 Big Apple cops will be soon using customized Windows Phones
32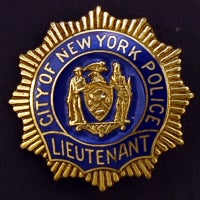 Ironically, Windows Phones are doing a great job keeping crime down in the Big Apple (as in Apple iPhone). 25,000 of New York's Finest already carry a customized Windows Phone handset as part of their regular patrol gear, and the remaining 11,000 officers belonging to the NYPD will be receiving the same phone in the weeks ahead. What model is being employed by the NYPD is unknown. Last week, Microsoft received an order for four million Windows 10 Mobile smartphones to be delivered to the Department of Defense over the next year.
According to NYPD Deputy Commissioner for Information Technology Jessica Tisch, one of the most important apps that is pre-loaded onto the handset is "the universal search app that provides enterprise search of all department databases and certain state and federal databases." And with fingerprint sensors on some models, identifying suspects in the field is much easier.
As an example of how the phones can help the cops patrol the streets, recently officers in the seven-three (that's cop talk for the 73rd precinct) were alerted by the NYPD's new shot-spotter system that shots had been fired near near 409 Saratoga Avenue. Bullet casings were found on the roof. Using their phones, the police found that a woman in the building had an outstanding arrest warrant. Using their handset, cops obtained a search warrant, "tossed" her place (we watch a lot of cop shows) where they found weapons and made two arrests.
Yes, there are concerns that being human, the cops will end up with their faces buried in their phones to catch a score, tweet a loved one, and do all of the things that the average Joe does with his phone. But on a recent Monday alone, the NYPD used their department issued handsets to view 2,000 wanted flyers, conduct 36,000 database searches, and review information about 29,000 911 calls.
"We've already begun to look at using Facetime and Skype on these devices so the officers may never need to have to go to traffic court or summonses court. He'll be able to literally be called from court, go online engage in a dialogue face-to-face."-Bill Bratton, Police Commissioner, NYPD

"It is clear that these department smart phones represent the single largest transformation in emergency communications in over a half of century for sure."-Jessica Tisch, Deputy Commissioner for Information Technology, NYPD
Wouldn't it be something if someday, instead of reaching for their guns, the police could defuse situations by reaching for their phones?
source:
NY1
via
FierceWireless