NEC will have a dual-screen Android tablet to show at CES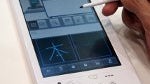 CES 2011 starts January 6th, and one of the Android electronics wonders there will be NEC's dual-screen 7-incher, which goes under the name the
NEC Cloud Communicator
. We sincerely hope that the company doesn't mean to show us a dual version of the
NEC LifeTouch
, which features a resistive screen, but judging from the leaked info about a stylus input, we wouldn't raise out hopes too high.
Except the usual fare - 3G, Wi-Fi and Bluetooth connectivity plus a camera, NEC is touting "
multi-tasking, with the ability to run different programs on each LCD screen – an industry first
" as one of the features. Oh yeah? What about the Acer Iconia, or the Toshiba Libretto then? Oh, nevermind, it's not Android, so they don't count. They lost us at the smell of resistive here, but we'll give them the benefit of the doubt for when this thing gets demoed, the price might be worth it.
via
AndroidGuys