NBA Now slam dunks into Android and iOS devices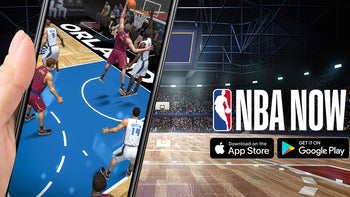 NBA Now is the newest basketball mobile game launched by GAMEVIL, and a great opportunity to spice up your NBA experience with some matches on a smaller screen. The game is now available globally on both Android and iOS platforms and doesn't cost anything to download.
However, GAMEVIL did include some in-app purchases, but they don't seem to be too aggressive at first glance. In NBA Now, players will step into the role of a general manager who must build a customized team with their favorite NBA stars and compete in an NBA season. Obviously, the goal of the game is to win a championship, but don't think about that when you first start playing it, as this is more of a long-term objective.
The game features an intuitive vertical-screen one-touch gameplay system with simplistic controls that should be suitable for both veterans and newcomers to this game genre. Also, NBA Now offers a wide variety of game modes and includes players, team uniforms and courts, as well as real-time NBA stats that are reflected in player ratings throughout the season.
Our partnership with the NBA and NBPA allows GAMEVIL to take another huge leap into themobile sports gaming realm. With simple controls and powerful tools, gamers and NBA fans can build and manage nearly every aspect of their team to set them up for success, and can even take control on the court.
For those wondering, NBA Now is available in up to 10 different languages including English, Korean, French and Spanish. You can find the list of compatible devices on the game's page in the
App Store
and
Google Play Store
.