Motorola confirms DROID to get Android 2.1 update this week
10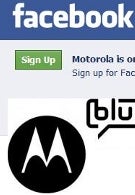 Earlier today, we
reported
that the Android 2.1 upgrade was heading for the Motorola DROID. A bit later, Motorola confirmed on its facebook page that the upgrade will happen sometime this week. Motorola will be sending the upgrade OTA on a rolling basis, similar to what was done with the 2.0.1 update. As we mentioned earlier, this is not a direct port of the Nexus One. Yes, there will be pinch-to-zoom in the browser and gallery. Google Goggles will be part of the upgrade even though it already is available on the Android Market. The news and weather widget that you've seen on the N-One is also included. What is not on the Motorola update is the animated wallpaper you have seen on the Nexus One. Apparently, because the DROID has a slower processor, it would not be feasible to have that run on the Motorola handset.
The Motorola facebook page says. "Hi all-we know that you are frustrated with the lack of details regarding Android software upgrades and we sincerely apologize for not being able to share info sooner. We're happy to relay the 2.1 upgrade to DROID will start to roll out this week, and we will have more information to share on other device upgrades later."
So there it is, straight from the horses mouth so to speak. By the end of the week, DROID owners will be flicking their fingers all over their handset's touch screen. It makes you wonder how anyone lived without pinch-to-zoom in their touchscreen browser. Besides the multi-touch in the browser, what part of the Android 2.1 update is getting you DROID fans all hot and bothered?
Motorola DROID Specifications
|
Review
source:
facebook
(Motorola)