Motorola announces RAZR2 series
2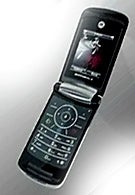 After Motorola "announced" again old phones like the Q 9h, the Z6, Z8, Ming and more (and renamed the Q GSM to Q8 GSM), Ed Zander, CEO of Motorola, just announced the successor of the RAZR, which he calls
the RAZR 2
. This one has been known in the rumors as the "V9" and the "LAZR".
The successor will come in three versions:
GSM HSDPA
,
CDMA EV-DO
and
GSM/EDGE
and will be 2mm slimmer than the first RAZR, but very durable due to the aluminum housing and chemically hardened glass. It will feature USB 2.0,
up to
2GB memory via microSD expansion slots and Bluetooth 2.0. Some versions will run on the Linux-Java OS (JUIX).
The RAZR 2 will feature large external display, and also will feature text to speech, reading the menus, contacts and new messages. In addition, all versions will have touch-sensitive music control keys on the front cover. Of course, support of full HTML is also present.
The GSM/EDGE version will be called V8, while the GSM HSDPA will be V9. The V9m is the CDMA model with EV-DO data. All models will be available worldwide starting in July.
Motorola RAZR2 V8 Specifications
Motorola RAZR2 V9 Specifications
Motorola RAZR2 V9m Specifications
Source: Motorola