Motorola EX300 Brew based touchscreen phone is on the horizon - for cheap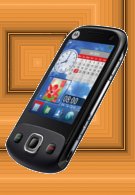 Android phone for the US market
, which isn't too shabby when you look at its specs, the company appears to also be thinking very highly about the entry-level segment of the market. Smartphones aren't the sole source of income for any phone manufacturer, that's why the Motorola EX300 is looking to present itself as a budget friendly option that'll provide for some modest features.
This handset is actually running Qualcomm's Brew operating system which naturally point it to be a budget oriented device. The Motorola EX300 features a 2.8" QVGA touchscreen,
3.1
-megapixel camera, Bluetooth, GPS, microSD card slot, tri-band GSM connectivity, and dual-band UMTS support. All in all, it's shaping up to be one inexpensive handset – especially when pre-orders for the device in Russia can be fetched for a mere €175 ($225). Even though it looks like the handset will be making its way to markets like Taiwan and Hong Kong, there is no clear indication if it'll somehow make its way into the US.
via
Unwired View