Motorola Droid RAZR HD announced: 4.7-inch 720p screen, 1.5GHz Snapdragon S4
50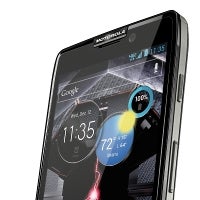 Motorola just brought the big guns to the game - it announced the Verizon-bound Motorola Droid RAZR HD, a flagship with a huge 4.7-inch 720p Super AMOLED screen with no physical buttons, and the Qualcomm Snapdragon S4 chip with the processor clocked at 1.5GHz.
The Motorola Droid RAZR HD runs on Android 4.0.4 Ice Cream Sandwich, but Motorola has promised it'd pay you $100 towards your new Droid if it doesn't manage to update one of its 2011 phones to Jelly Bean. The Droid RAZR HD will - of course - run on Verizon's blazing-fast 4G LTE network and come with Chrome pre-loaded.
Designwise, the Droid RAZR HD is pretty impressive with its almost edge-to-edge screen with just a tiny bezel around the display. It's only 8.4mm thick, and while it will first arrive on Verizon, it's expected to
spread globally
later on as well under the RAZR HD name (sans the Droid part).
The handset will also will feature a pretty capable 2,500mAh battery, a capacity surpassing the Droid RAZR by 40%. Just as with the original RAZR, Motorola is bringing a MAXX version with even more beefed up juicer.
The
Motorola Droid RAZR HD release date
is set for the vague "before the holidays" and the price has not yet been disclosed.
source: Motorola
DROID RAZR HD: Performance and Power

Building on the DROID RAZR legacy, the new DROID RAZR HD expands the innovation with a new 4.7-inch Super AMOLED HD display that allows movies, photos, magazines and even websites to appear with vivid clarity. DROID RAZR HD provides customers with 78 percent more pixels for a more vibrant display and features 40 percent greater battery capacity than the original DROID RAZR.

The viewdini app is at its best with the HD display and 4G LTE speeds to watch movies, television shows and other video content. Viewdini brings the power of Verizon Wireless' 4G LTE network to the screen by streamlining access to videos from a wide range of content providers, including cable operators, websites and other popular video sources. The viewdini app can be downloaded from Google Play.