Motorola Debut i856 now available on Boost Mobile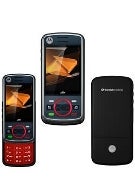 Boost Mobile, the pre-paid carrier that is a division of Sprint, announced that starting today it will offer the Motorola Debut i856. The Debut is the carrier's first PTT slider and is chock full of features. The device offers a 1.3MP camera with video, threaded texting, instant access to music, a 3.5mm audio jack, microSD support up to 8GB, web browsing and a 2.2 inch display. The price for the phone is $169.99 with free shipping.
"Our wildly popular Monthly Unlimited service is attracting customers who are more likely to purchase higher-end phones," said Matt Carter, Boost Mobile President. "The Motorola Debut i856 phone meets the need for this demand with compelling multimedia features". Boost's $50 Monthly Unlimited plan allows unlimited, nationwide calling, text messaging, web browsing and walkie-talkie services in 17,500 cities throughout the nation.
Motorola i856 Specifications
source:
Motorola